HORSE FIGHTING
This lively event in SOUTHEAST SULAWESI is found only in Raha (Muna Island). Fighting is held on the occasion of ceremonies, mainly during thanks giving ceremonies, to welcome honored guest, or upon special requests. A feminin horse will be pulled in front of two horses. Each of the horses will fight each other to get the feminin horse.
While these contents were previously held in open fields, in and around populated areas, today they are conducted in reserved compounds and tracks.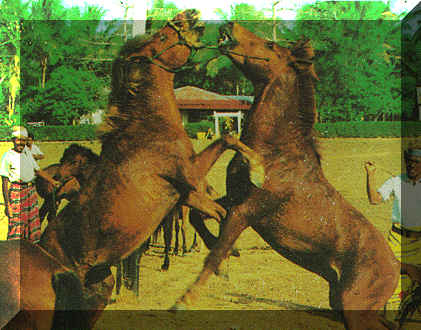 HORSE FIGHTING
NAPABALE AND MOTONUNU LAKE
Napabale Lake is at the foot of a hill, connected to the sea via a natural tunnel. At low tide swimmers can traverse this span of water for a most unusual experience.

However it is considered unadvisable and dangerous to attempt this feat during high tide, as the water rises to only one half meter from the roof of the tunnel.

Motonunu Lake is known for its clean, clear, dark blue water. Through it is also connected to the sea, its water remains fresh and not salt

Both lakes are 15 km from Raha, the capital of Muna Regency, on Muna Island. They are accessible by sail boat, from Raha, in only 45 minutes.
---
Created by Ir. Asrun, M.Eng.Sc dan Rekan
Send e-mail to : Rehab@kendari.wasantara.net.id
Copyright © 1998 Dinas PU Sultra. All rights reserved.
Last Updated : January 13, 1999 21:35