GENERAL INFORMATION AND HOW TO GET THERE
TRAVEL AGENCY
NATIONAL PARKS AND CONSERVATION AREAS
THE WONDERFULL MORAMO WATERFALL AND SEA GARDEN OF PULAU HARI
BATU GONG BEACH AND TOLI-TOLI HILL
TAIPA BEACH
THE SULTANATE OF BUTON, NIRWANA BEACH AND BONE OGE
HORSE FIGHTING, NAPABALE AND MOTONUNU LAKES
TAMBORASI RIVER AND MALAHA ISLAND
Welcome to nature's original jungle and water wonderland - where the sights and sound of nature's beauty await the visitor who seeks life on a simpler scale, away from today's complex cities and urban sprawl.
Welcome to Southeast Sulawesi
Formerly called the Celebes, Sulawesi is one of the world's most uniquely shaped island. It is often referred to as the "Orchid Shaped Island" Historically, this land was ruled by Sultans and Locally Governed by regents and.
Today, Sulawesi is divided into four proviences, one of them being Southeast Sulawesi, covering the lower eastern leg of this beautiful island.
The Southeast Province is populated by more than 1,2 million people, in five diverse and interesting cultural groups : the Tolaki, Morunene, Buton, Muna (Locally called the Wuna), and the Bajo. All offer the visitor a glimpse of life-styles which have survived man's rush to modernization while using much of today's technology to their advantage.
Most of the land area of southeast Sulawesi is covered by natural jungle, with extensive plantations of teak and ironwood, which are used for local handicraft and contribute to the local economy. Much of the beauty of the region has been preserved for prosperity by declaring it "National Parks" and "Nature Preserve.
The entire province is inhabited by wonereous animals, living freely, easily seen and appreciated by visitors. Deer, Wild Pigs, Small Rodent-Like animals called Kus-Kus, Monkey, Snakes, Anoa (small buffalo) and numerous varieties of birds abound. But the hunting of animals is forbidden in national parks and preserves and carefully controlled by local government, in other areas.
The warmth of the Sulawesi People, the local flora, fauna, and untouched beaches, are the highlights of this unique locale. It is truly one of the world's last remaining natural habitats - waiting to show off for the visitor who can appreciate such natural beauty and the people who live in it.
So, we bid you, "Welcome to Southeast Sulawesi", welcome to enjoy our natural beauty. And, we hope this brief brochure will serve as a helpful guide in planning your say in our unique and tranquil province, our special place in the Indonesia World.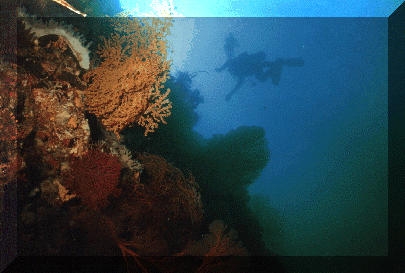 Sea Garden at Hoga Island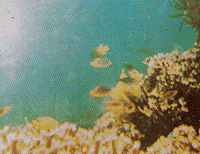 Sea Garden at Hari Island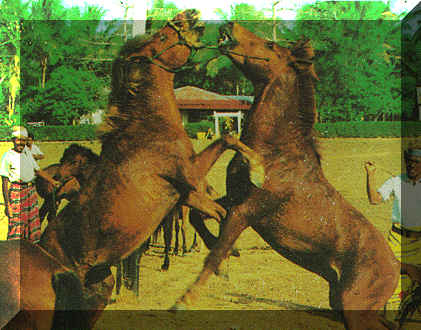 Fighting Horse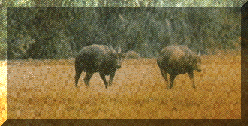 Specific Animal (Anoa)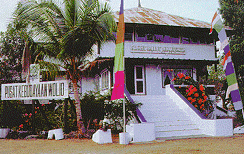 Keraton Buton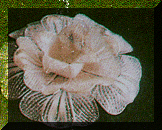 Handycraft Silver